Disease Resistant Forage Annual Ryegrass Varieties Ideal for Overseeding and Grazing Livestock
Lolium multiflorum
An annual cool-season bunchgrass used for temporary pasture, cover crop, erosion control, or overseeding warm-season grasses. High production can be expected in the Southern US from November to May. Annual ryegrass tolerates close, continuous grazing extremely well.
Improved disease resistance
Quick  to establish
Rapid regrowth
Exceptional grazing tolerance
Excellent digestibility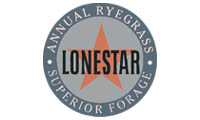 Improved cold tolerance
Improved rust resistance
Great seedling vigor
Quick establishment
Excellent digestibility
High-yielding
Ideal for grazing
Looking to create a mix? Try pairing with
*Not recommended for horse pastures as ryegrasses are higher in fructans, which some studies have shown can lead to laminitis.