Do either of these phrases sound familiar? "Garbage In, Garbage Out" or "Penny Wise and a Pound Foolish". Both are important concepts when it comes to purchasing and planting cover crops.
As a farm manager, it sometimes seems like there are more ways to spend money than to make money, and it takes hyper-vigilance to keep the black ink flowing.
Here are a few ways that may seem counterintuitive, but can save you:
time (which is money)
energy (which could be spent making money)
stress (damaging to your health, which costs money)
additional herbicides (which adds time, additional equipment, and costs money).
Inspect the Grass Seed Label & Test
Seed dealers are governed by the Federal Seed Act and are required to label each lot as to purity and germination.
To label accurately, dealers rely on seed tests conducted by registered seed analysts. These tests are used to create a tag for each container or bag of seed that is sold.
At a minimum, you should know how to read and understand the information on the tag. Many farmers are familiar with how to read these, but here's a refresher – it's that important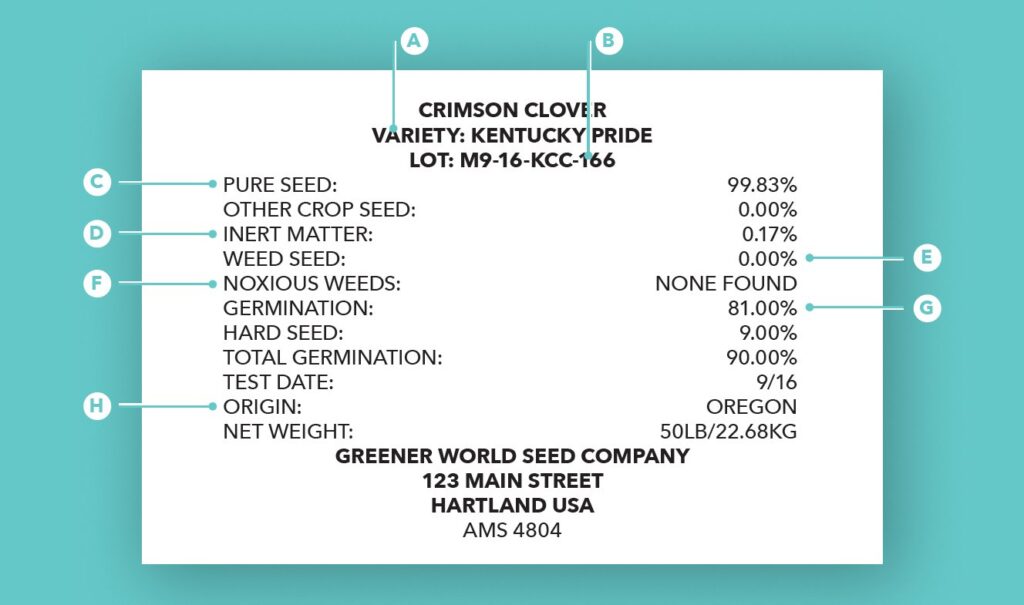 A – Variety – Indicates the type of seed along with the name of the
genetic variety. If the variety is not known, or it is open-source
material, it will be listed as VNS (Variety Not Stated). It is difficult
to understand performance and outcome when using VNS.
B – Lot – Indicates the specific seed that was tested.
C – Pure Seed – Indicates, by weight, the percentage of the ingredient listed
D – Inert Matter – Indicates content material that will not germinate. It is common to see 25-50% if the seed is coated.
E – Weed Seed – Indicates by weight the amount of weed seeds present
F – Noxious Weeds – Indicates by weight the number and kind of weeds that must be identified and listed by name (each state has its own unique list)
G – Germination – Indicates the amount of seed that will germinate for each ingredient (refer to the Test Date on the label to see how current this information is)
H – Origin – Indicates the region where the seed was produced