Project: #RootsBreakBarriers
We are testing 5 different cover cropping options to determine which, if any, can fix either of two major soil challenges, compaction, or a zone of low pH. We have created simulated soil profiles within clear sleeves placed into PVC tubes that were sunk in the ground to create controlled soil profiles with realistic weather conditions and soil insulation.
We have planted several cover crop species and combinations and will be able to assess root penetration of these challenging zones at several different sampling dates.
Four replications of each treatment combination will be sampled at the typical cover crop termination time, corn v10, and corn harvest. At each sampling date we will assess above ground biomass as well as a thorough investigation of the rooting characteristics.
We will determine whether the corn roots followed the cover crop roots by assessing root penetration and void channels, root biomass, and carbon to nitrogen ratio by depth in the soil profile.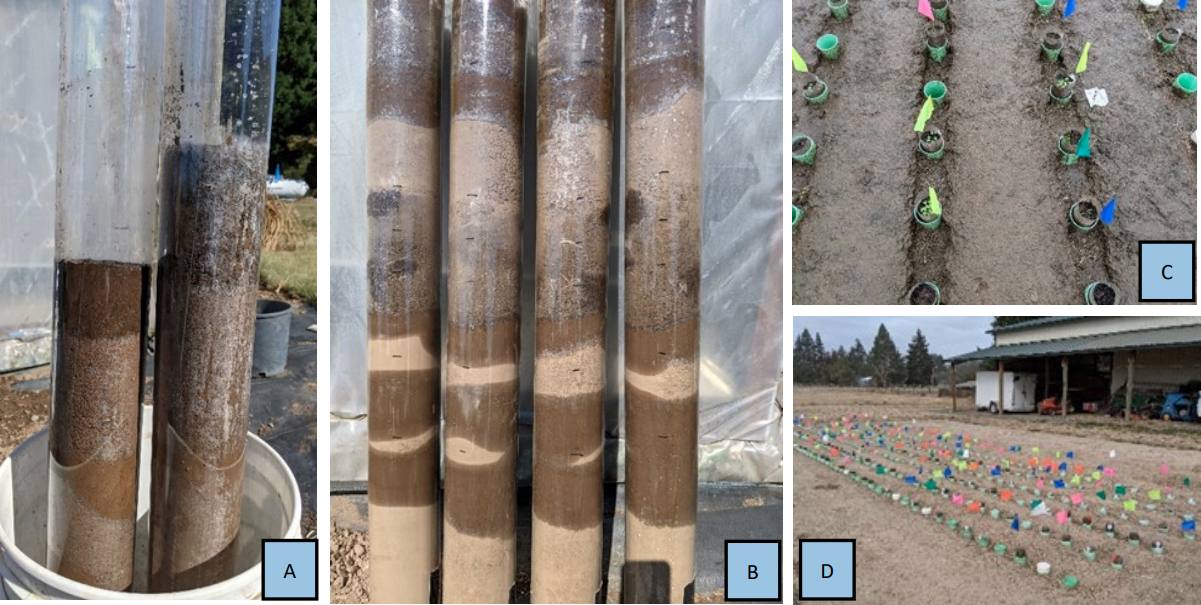 Panel A) Process of created layers of high bulk density. Same amount of soil in these columns, one has been compacted. Panel B) Four finished columns with layers of low soil pH. Panel C) Close up of sleeves in the tubes with cover crops started. Panel D) Overview of 216 tubes in the ground.
Project: #FIXatioNNTiming
We are assessing the quantity and timing of nitrogen availability from Fixation Balansa Clover at three termination times using four termination methods, on two soil types, and in each of two climates.
At each termination time the total biomass and C:N ratio of Fixation will be measured. At each time point the Fixation will be terminated using either glyphosate, tillage, crimping, or grazing.
Intact soil core samples will be taken at each termination time within each termination method for a five-week laboratory incubation where we will measure carbon and nitrogen mineralization to determine how those management decisions influence the timing and quantity of nitrogen that is made plant available.
After termination, corn will be planted with no fertilizer added to assess nitrogen uptake timing and rate. Throughout the growing seasons drone footage will be taken to aid in the database development to create a biomass index.
At one location greenhouse gas measurements will be taken every two weeks to assess the C and N balance in the field. This trial is replicated at Oregon State in Corvallis, at GO Seed in Salem, at one site in Indiana, and one in Illinois.
Project: "Cover Crop Demonstration Plots"
We planted 15 common cover crop species, as well as each of those varieties blended with other species in either a two- or three-way blend. This small plot, side by side demonstration, is designed to create clear visuals for those unfamiliar with common cover crops. We are taking photographs daily to document the growth timing of each crop. This is a tool for demonstration for partners visiting our site and will be used to create a timelapse comparison of cover crop growth.

Project: "Perennial Falcata Alfalfa with Strip Tilled Corn"
We are testing the viability of varieties of Falcata Alfalfa as a perennial cover crop in a corn production system. Building off of research conducted previously at our Oregon and Iowa research farms, this trial will be conducted at South Dakota State University. The first phase will include preliminary experiments for various methods of establishing the Falcata, starting in November of 2021. Falcata will be planted with skip rows for corn set at either 30 inch or 60 inch row spacing. After establishment, the falcata will be mowed and soil
strip tilled in the area where the corn will be planted. Fertilizer treatments will be either 50% of the soil test recommended rate or no nitrogen fertilizer. We will measure a full suite of soil health parameters as well as plant growth and nitrogen uptake of both the falcata and corn. Crops will be assessed for feed value and a partial budget for each production system will be created to help understand direct economic benefits. A similarly designed trial will also take place at Ohio State University with one variety falcata alfalfa and several clover varieties established in September of 2021 and corn will be planted in spring of 2022.
Project: "Agronomy of Fixation Balansa"
Dr. Shalamar Armstrong from Purdue University will soon be the regional expert on how to be successful cover cropping with Fixation Balansa Clover. He has started 50 acres worth of trials within five different climate zones in Indiana and Illinois. He has various research objectives including, calculating the agronomically optimal rate of nitrogen fertilizer, assessment of various termination methods, methods for dealing with pests, timing of planting and termination, and influence on soil microbial community and soil health outcomes.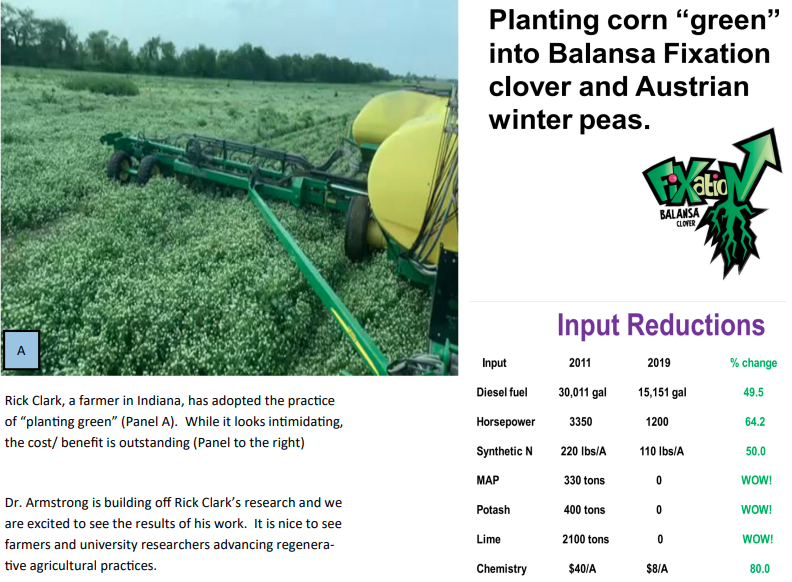 Project: "Mycorrhizal Inoculations"
Using three growth media and four ryegrass species we are testing the efficacy, viability, and association rate of several commercially available mycorrhizal inoculants. From this we will start to build our program to determine what conditions respond with a positive economic return when using mycorrhizal inoculant as a seed coating. In addition, this preliminary research will be used as we develop methods of cover crop variety selection using root and microbial association metrics.
Perennial Cover Crops
As cover crops receive more attention, researchers around the globe have been turning their focus to perennial crops that can be grown in conjunction with the cash crops. Planting ideas include skipping rows in the perennial cover planting so that the cash crop can be inter-sown at a later date, and strip tilling or chemically terminating strips into the perennial cover to create room to sow the cash crop.
GO Seed is right in the midst of this movement! We have partnered with the folks at the Perennial Groundcover Project to explore perennial alternatives for cover crops. Others involved include Iowa State University and the Land Institute in Kansas ( for more information go to www.abe.iastate.edu/pgc-team/ ). Their initial efforts center around Kentucky Bluegrass, of which GO Seed donated the Milagro Kentucky Bluegrass which has now been sown across several thousand acres in Iowa and Kansas.
We are also evaluating AberLasting Kura x White Clover, and our experimental Falcata Alfalfa and Sainfoin varieties. All of these non-GMO products exhibit pretty good tolerance to glyphosate in Spring applications so they work well with glyphosate-resistant corn cropping systems.
Carbon Sequestration
GO Seed is also attempting to quantify the carbon sequestration potential of our cover crop and forage species. The carbon markets seem to be gathering steam with large and innovative companies developing the tools to enable farmers and ranchers to market the carbon credits that they create by adopting new practices like cover crops and no-till. Companies that are developing marketing and tracking tools include Bayer, Corteva, Indigo Carbon, Nori, Nutrien, Truterra, and others. While they are all focused on the "how to Market" side of this future business, GO Seed is working on the "how to grow portion" and have become the leaders in this potential earth changing market.
We are beginning year 3 of a study in conjunction with the University of Wyoming where we are evaluating our Sainfoin and Falcata Alfalfa varieties for their potential to sequester carbon. We are attempting to build off of research conducted by Dr. Gerald Schuman, et. al back in 2001 on rangeland in the USA. In their research they found that by adding Falcata Alfalfa to dryland range that an additional 1.56 MT/ha/yr. of carbon could be sequestered in the soil after four years. By incorporating livestock they found an additional
0.30 MT/ha/yr. of carbon could be sequestered.
With over 161 million hectares (397 million acres) of rangeland in the USA that has largely been mismanaged over the last century and a half, we feel that this land has a lot of potential for carbon sequestration. The revenue that could be generated by ranchers from the sale of carbon credits can easily cover the cost of the rangeland improvement. Improvements that could lead to improved productivity which would generate further returns.
The carbon markets have the potential to transform agriculture as we know it and we are actively accounting for this potential in the development of new varieties of turf, forage, and cover crops.